Bad Haircut Day Three - The Acceptance
OK, she's still cute. It actually seems to be righting itself a bit, when not combed out as seen above.
In other news, Marc got his face cut on in a major way yesterday. They took out a dime-sized piece of his cheek, only to discover that there were cancer cells at the perimeter and they would need to take more. So, back they went and now it's a nickel-sized hole. We were both a little shocked; we had been thinking this would be like the biopsy. It doesn't matter as long as they got it all.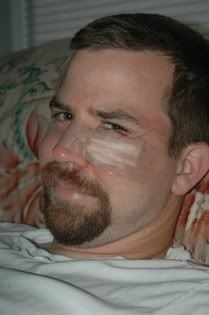 Good thing O learned "boo-boo" last week.